Description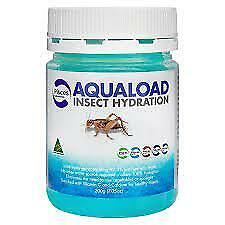 Pieces Laboratories Aquaload is designed to keep your insects hydrated during periods of storage.
Vitamin C and Calcium-fortified hydration cube provides insects with a clean a safe water source.
Easily handled cubes eliminate the risk of insects droning thereby reducing losses.
Eliminates unhygienic and unsightly rotting fruit.vegetables and mouldy sponges.
Ingredients: Purified rain water 92.3% seaweed extract, vitamin C, calcium and vegetable colouring. Usege:
Offer your insects Aquaload at all times.
Continue to feed as insects consume it.
Remove old gel cubes after 3 days.
Storage: Can be kept at room temperature or in the fridge.